As with any service company, Wyoming Casing Service relies heavily on our equipment, in addition to our personnel, to ensure our success when it comes to performing in the oil and gas industry. Our maintenance program and our aggressive equipment replacement program allow us to offer our customers quality equipment of any size needed to complete the job. With more new equipment than any casing service company in the Rocky Mountain Region, we are confident that we have reduced the possibility of lost time due to equipment failure.
Hydraulic Power Units
We utilize truck-mounted hydraulic power units, on several different sized trucks; ranging from the Chevrolet 3500 to the Freightliner model. Our stock currently includes 50 units, with several more to be delivered within the year.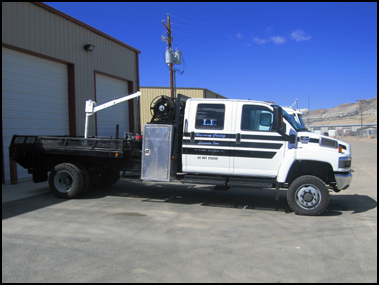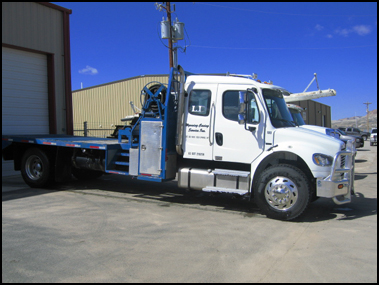 Pickup and Laydown Machines
Because of the varying needs of our customers, we offer two sizes of pickup and laydown machines. We have been using the Chevrolet model 6500 units for many years, and have now added the larger units manufactured by Black's Welding in Canada that are mounted on new International model trucks. Our stock currently includes 30 units, with more to be delivered within the year.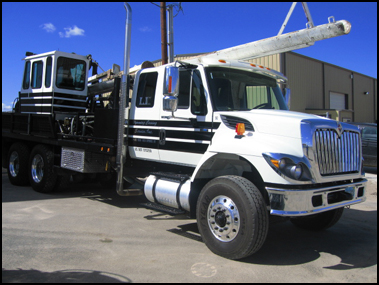 Hydraulic Trailer Mounted Catwalk
Wyoming Casing Service has recently purchased a Hydraulic Trailer Mounted Catwalk. This catwalk has been designed to work in the service rig to small drilling rig environment. The integrated power pack along with the King Pin or Ball coupler 5th wheel makes this model highly mobile and easy to set-up.
The main components of this model are.
A 42′ Skid with adjustable trough capable of lifting 3600 pounds of up to 13-3/8″ casing.
Adjustable trough that can reach subs from 4 to 27 feet in height that includes a hooded butt plate for added safety when hoisting tubulars and also an included 9 foot extension that allows the operator to get closer to well center.
Skate system that moves the tubular toward the well center (and away from tripping out of the hole) once the trough is in the up position.
Controls that are mounted on the rear of the unit as well as a wired remote that has a 30 foot umbilical cord that can be attached to the rear or front of the catwalk.
Self contained diesel hydraulic power unit with hydraulic oil cooling fan.
Hydraulic Outriggers that will allow the unit to be leveled.
Tubular pipe rack indexers that assist in loading the tubular from the pipe rack into the trough.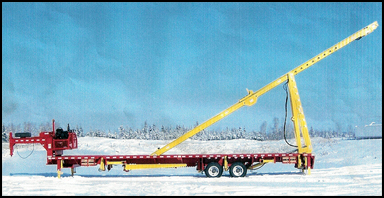 Casing Handling Tools
The past two years have brought the addition of several sizes of handling tools for casing strings requiring large-capacity elevators and spiders. We have the handling tools to handle anything from 2 3/8″ tubing strings up through 20″ casing strings. Our tools range in capacity from 50 Ton up to 500 Tons.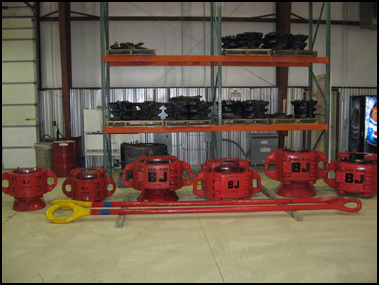 Casing Running Tools

(Photo courtesy of Volant Products Inc.)
In late 2009, we received our first delivery of the Volant Casing Running Tool, and we have continued to add more tools to our inventory.  These tools have many great benefits, one of which being the ability to rotate the entire string of casing while running into the hole.  These tools also allow for circulating and filling; but one of the greatest benefits is the reduction in manpower needed for casing running operations.  Less people on the floor makes the operation much safer than standard casing running.  These tools are mechanical set which means no fluid leaks and very easy to understand and operate. Please click on the links below for more information or to view a video of the tool in operation.
CRTi brochure (Brochure courtesy of Volant Products Inc. – Adobe Reader Required)
Videos provided courtesy of Volant Products Inc.
Torque Control Units
We proudly offer the ConTech Model CT 3000LT Computerized Torque Control System; also known as a Torque Turn system. These units allow us to provide our customers with accurate control over the torque used to make up any joint of casing or tubing. Our technicians are professionally-trained in actual working environments to ensure that each customer receives the quality required in this precision operation.
To learn more about the ConTech Model CT 3000LT, click here.
Air-Operated Elevators and Camera System
Early in 2009, Wyoming Casing Service, Inc started to utilize an air-operated elevator system, to allow for the use of a Fill and Circulate tool on rigs not designed for (or not safe for) a stabber in the derrick.??їЅ To make this system effective, we use a two-camera system that allows us to monitor what is going on in the air, from the safety of the rig floor.??їЅ You can see these tools in use, and the clarity and effectiveness of the camera system, by clicking play in the window below.
Conductor and Rathole Rigs
All of our dry-hole bucket rigs are built by Gus Pech Manufacturing, eight rigs that were purchased new in the last five years. Mounted on new International trucks, these rigs prove that our commitment to quality equipment covers the entire range of our services offered.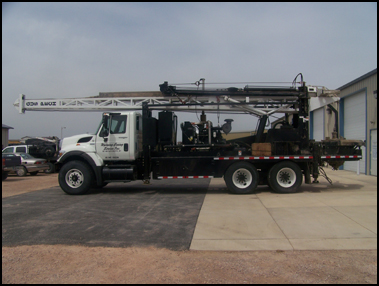 Mobile Cement Units
We use our own mobile cement units to mix and pour on location, as needed. These units are ideal for the cement pours needed to set conductor pipe, and also for top-off jobs. With new equipment, mounted on new trucks, these units offer worry-free operation for many years to come.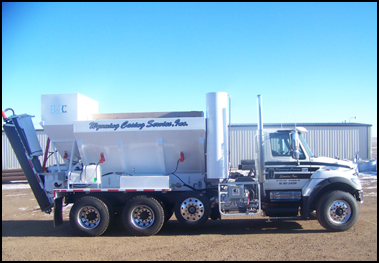 Thread Cleaning Units
As an additional service, we offer thread cleaning and inspection for all sizes of casing and tubing. Last year, we developed a new, fully enclosed, system for the cleaning of the threads. The new system features an automatic solvent feed, directly to the brushes, and a vacuum-powered return for the used solvent. This system goes one step further to ensure that no solvent is lost during the cleaning process.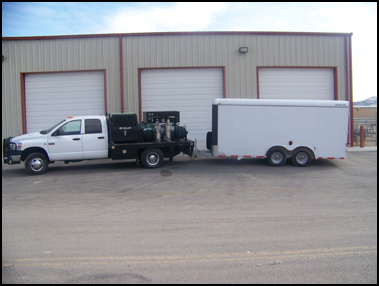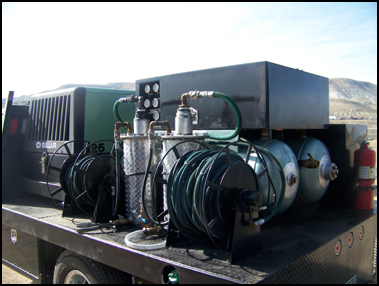 Installation and Testing of Rig Anchors
In our Gillette, Wyoming and Dickinson, North Dakota locations we offer installation and testing services for rig anchors. With new equipment, and annual certification, we are able to accurately test anchors up to 20,000 pounds of pressure.